School Notepad
Das Schülernotizbuch "Starboy"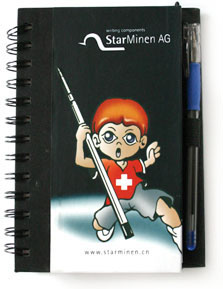 The spiral-bound notepad from Starminen is aimed especially at school kids. With 80 pages (11 cm x 17 cm, lined) it offers plenty of room for noting down homework and memos. A ballpoint pen with a high quality Starminen refill is also attached to the notepad by a rubber band. On the back pages of the notepad, the "Starboy" comic figure takes the readers off on a journey around the world and through the history of the Swiss company Starminen. The "Starboy" stories are written in simple English to help children to learn a foreign language.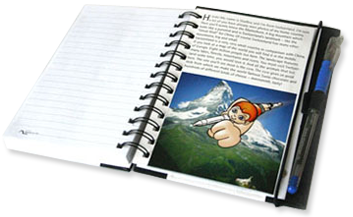 80 pages, lined
Dimensions 11 cm x 17 cm
Starminen ballpoint pen (blue)
Language: English
Please ask for price
"Go to Online-Shop >>"