Comparison
A comparison of large refills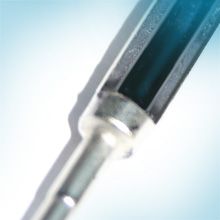 Cheap products appear to be a bargain. But appearances are deceptive: Superficially, an inferior quality jumbo refill and a Parker type quality refill are difficult to tell apart. But the differences soon become apparent when you look inside: A plastic tube reduces the volume of the barrel; this is intended and reduces the quantity of ink; only the front thin part contains paste and the silicone sealing compound designed to prevent the paste from leaking is missing completely. No wonder that these pastes often dry up very quickly in practice.
Arithmetic example:
Inferior quality jumbo refill: About 30 percent cheaper than a StarMinen refill. Actual measured writing performance approx. 680 m, i.e. 20 written DIN-A4 sheets.
Inter-refill Parker-type StarMinen refill metal: Price 100 percent. Actual measured writing performance approx. 6,500 m, i.e. 182 written DIN-A4 sheets. That is nine times as many as with a cheap refill.
Result: StarMinen refills are 60 percent cheaper than "cheap" refills in terms of their writing performance!