Research
Research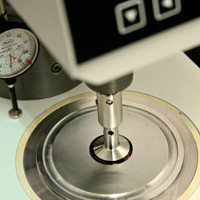 Our products are continuously developed because StarMinen see it as their duty to offer top class, innovative solutions at all times. The prime goal is always maximum writing quality and reliability!
1. Inks and pastes
StarMinen not only works to improve ballpoint pen inks and pastes but is constantly exploring to find innovative products. The existing regulations have to be observed and the products must be adapted to environmental requirements. The right choice of all materials and the examination of chemical and physical properties is crucial.
2. Refill tips
StarMinen is continuously optimising the performance of refill tips with selected suppliers. For this reason the design of new tips, in co-operation with our business partners, is an important part of our research and development work.
3. Product safety
The safe use of our ballpoint pen refills is rigorously tested before they are launched on the market. Individual safety mechanisms offer additional guarantees for use.